---
---
PRICE: IDR 20,000 /pc
Material: 90% Nylon, 10% Spandex
Premium Quality Hair Net, made of 90% Nylon and 10% Spandex. Able to use with FULL WIGS and HALF WIGS!

Perfect for Men and women, COOL MESH and completely invisible! It creates a perfect mesh when you are using full wigs or half wigs. 100% Made In Japan!
---
1 pc of S-Cawaii! Hair Net Cap
---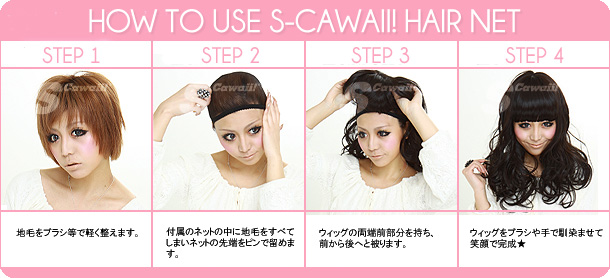 Cara pakai:
Masukkan rambut ke dalam S-Cawaii! Hair Net Cap dan atur posisinya supaya rambut bisa merata dengan sempurna, lalu atur posisinya
Gunakan bantuan bobby pins (jika perlu) untuk merapikan posisi rambut
---
Tips Pemasangan:
Untuk rambut panjang, gunakan S-Cawaii! hair Net untuk membatu dalam mengenakan wigs atau full wigs agar hasilnya tampak natural
Ketika memakai S-Cawaii! hair net untuk mengenakan half wig, pasang hair net tidak melebihi batas crown head (bagian dimana anda biasa meletakkan bando), lalu jepit dengan bobby pins jika perlu.
---
* Required Fields
Make sure that your information above are all correct before submitting the order form.